We hope you are enjoying playing FIST OF THE NORTH STAR: LEGENDS ReVIVE.
It's Alliance VS Alliance!
An all-new "

Alliance Battle

" feature, which pits entire Alliances against each other, will be playable!
An Alliance Battle is an event where Alliances battle each other over a set period of time.
During the event, Alliances will be matched with an opponent each day. Matching is based on their current Rank Points.
Rank Points can be earned or lost depending on an Alliance's wins and losses. Alliances can also be promoted or demoted based on their total Rank Points.
Alliance Battles are fought by multiple Parties.
Parties must be edited according to specific Criteria. Only Fighters that meet that Criteria can be assigned to the Party.
 Criteria 1: SR Fighters & Below
 Criteria 2: Technique Type Fighters, etc.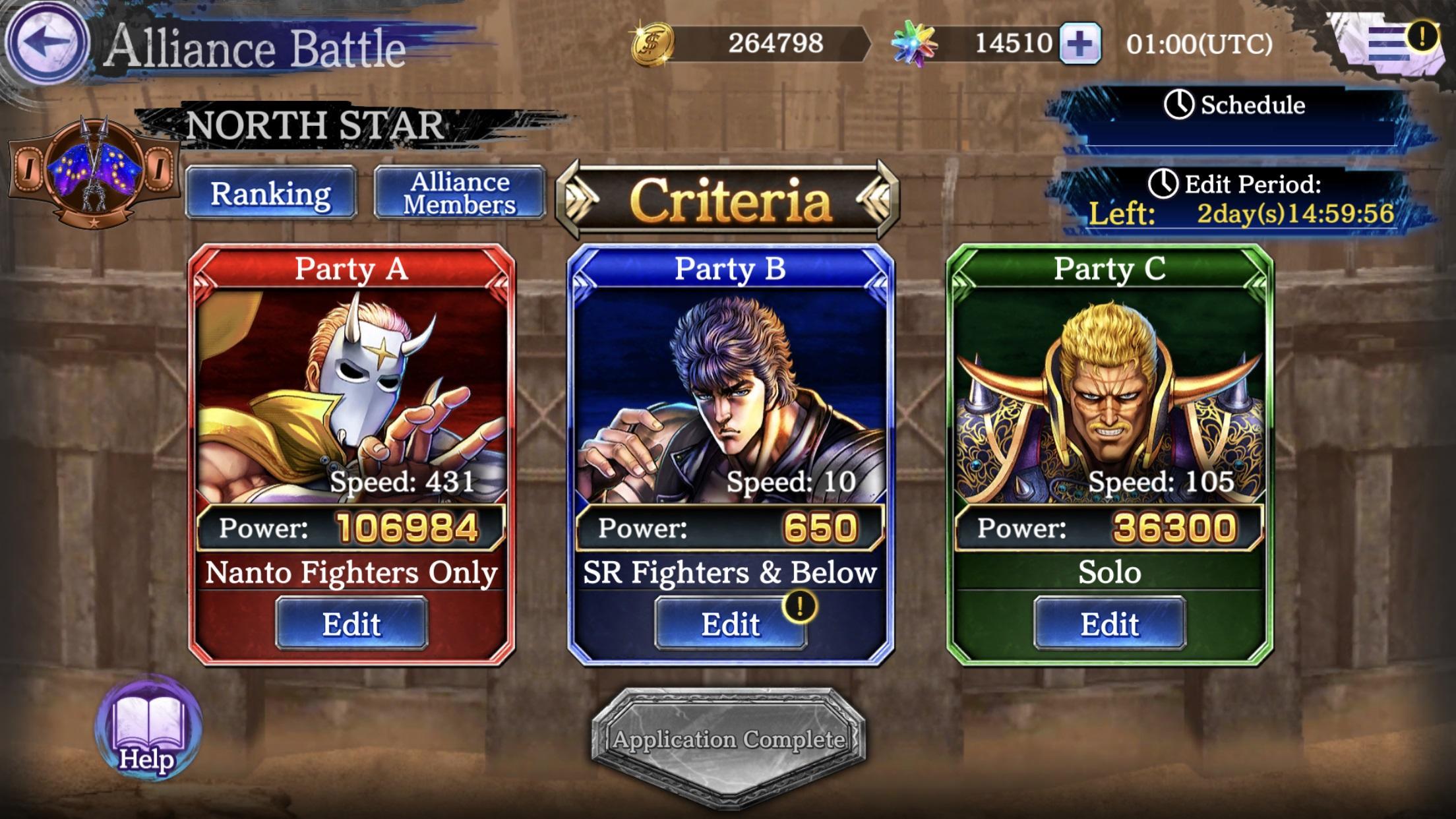 *Screenshot is from a work in progress.
Parties that meet each necessary Criteria will battle against a matching opponent from the enemy Alliance. The Alliance that defeats all of their opponent's Defense Parties first wins.
Users have Action Points. These are needed to battle enemy Defense Parties.
Similarly, the number of times a User can field their Party (Actions) is limited.
Once their number of remaining Actions reaches zero, their Party cannot be used in battle again that day, even if they have Action Points left.
 *Users' Action Points and number of Actions reset daily after the Alliance Battle Period ends.
Users apply to join the event and edit their parties during an initial Edit Period.
After this period, Alliance Battles play out according the the following cycle.
--------------------------
(4) Inter-Battle Edit Period
--------------------------
*Battles are held from 03:00 - 12:59 UTC
*For details on the times each period of an Alliance Battle is held, please refer to the Event screen.
- This feature is currently in Beta.
 Due to this, it may be updated without prior notice.
- You must be in an Alliance to participate in Alliance Battles.
- Alliances can only be formed or joined by Guild Leaders at Guild Level 2 or higher.
- The Alliance that defeats all of their opponent's Defense Parties first wins.
 If neither achieves this, the Alliance that deals the greater amount of total damage to its opponent's Defense HP is declared the winner.
- Once selected during the Edit Period, the stats of the Fighters in each Party will be locked in.
 Any changes or enhancements made to Fighters will not be automatically updated for your Alliance Battle Parties.
 If you enhance them you will need to edit the relevant Alliance Battle Party for these changes to be reflected.
- All Users currently in an Alliance will be automatically added to the Alliance Battle when the Edit Period ends, regardless of whether or not they applied to join during the Edit Period.
 *This only applies to Users that have logged in during the last 120 days.
 *If added automatically, your Party will also be set automatically, with Fighters chosen based on those with the highest Power. 
- Once started, battles play out automatically.
- Fighters that have been defeated will remain defeated in the next battle. Any damage sustained will also carry over.
- If all Fighters in a Party are defeated, that Party cannot be fielded again, even if it has remaining Actions.
- Rewards are sent to Users' Inboxes daily after the Battle Period ends and are based on their current Alliance Rank at that time.
 *Users that leave an Alliance or change Alliances during an Alliance Battle are ineligible to receive Rewards. 
For further details, lease refer to the Event screen.
*If new items or content are not accessible despite unlock requirements having been met, please restart the app.
Thank you for playing FIST OF THE NORTH STAR: LEGENDS ReVIVE.