We hope you are enjoying playing FIST OF THE NORTH STAR: LEGENDS ReVIVE!
The new Co-op Phantom Battle challenge content is now playable.
The objective of this Co-op Phantom Battle prerelease is as a test before the official release.
■ Schedule
October 29, 2019 (Tue) from 09:30 UTC.
*This is a prerelease therefore, contents are subject to change or cancellation without notice.
■ Details
In Co-op Phantom Battle, assemble a team of up to 5 users and challenge Phantom Fighters.
Defeat a Phantom Fighter and there is a certain chance of acquiring the glorious reward of a Fighter Shard of the defeated Phantom Fighter.
Furthermore, future events in which you can challenge UR Phantom Fighters, are planned to be held.
*The future event content and schedule are yet to be decided.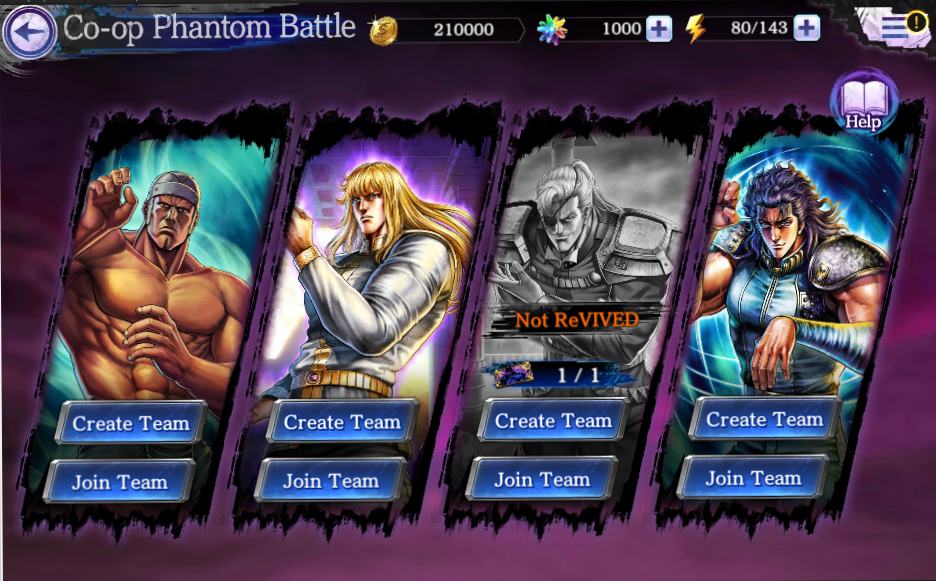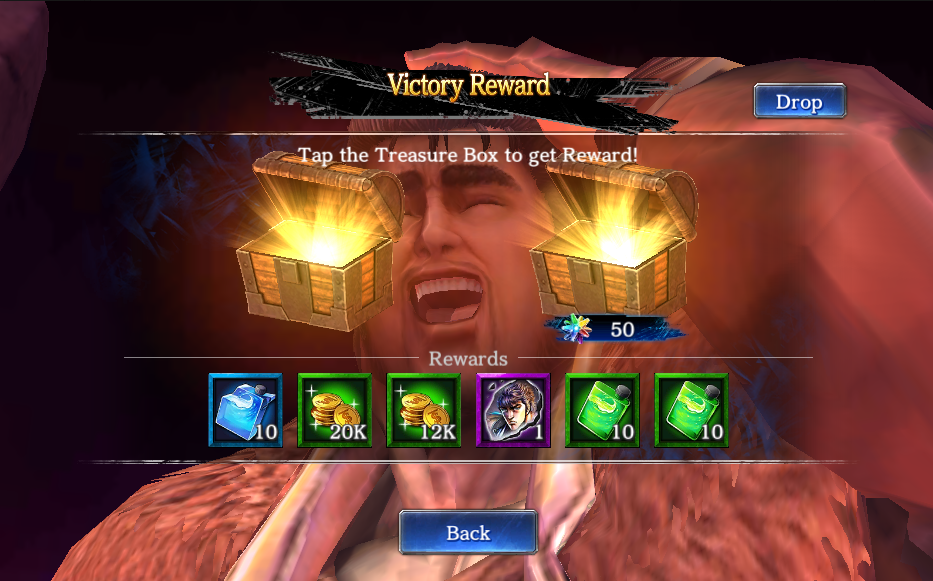 Each day 4 Phantom Fighters are selected. Out of these Fighters you can only challenge the ones you have ReVIVED.
However, if you use the exclusive Phantom Voucher item it becomes possible to challenge a Fighter you have not ReVIVED.
*Phantom Vouchers are planned to be obtainable from future Events.
A Phantom Fighter can be defeated up to 3 times a day. After the third time the Fighter is completely defeated.
If 3 or more members in your team including yourself completely defeated the Fighter, you can obtain extra rewards.
Check out Co-op Phantom Battle from Challenges on the Home screen.
*Co-op Phantom Battle is a prerelease and, therefore its functionality could be unstable.
*We will provide information about the official release date of Co-op Phantom Battle soon.
*Co-op Phantom Battle is unlocked at User Level 40.
*Co-op Phantom Battle is reset daily at 03:00 UTC.
*If you have defeated a Fighter once, you cannont withdraw from a team until the daily reset.
*You cannot obtain the extra rewards if you did not defeat the Phantom Fighter 3 times.
*If contents is not displayed during the scheduled time, please restart the app.
*All screenshots used in this announcement are under development.
Thank you for playing FIST OF THE NORTH STAR: LEGENDS ReVIVE.